Tom Clancy's Ghost Recon: Future Soldier utilizes an
auto save system
. Progress will be saved automatically at certain points throughout the game.
If your game is not saving, please try the following:
1.
Start by verifying that your progress was previously saved. You can do this by accessing the storage section of your hard drive using the steps below:
- Press the
Xbox 360 guide button
- Scroll to the
system
blade (Far Right)
- Select
System Settings
- Select
Storage
- Select
All Devices
- Select
Games and Apps
- Locate and select
Ghost Recon: Future Soldier
Here you should find a list of all save files on the console along with the associated profile name to the right. Make sure you are signed into the
correct gamertag
to access your progress.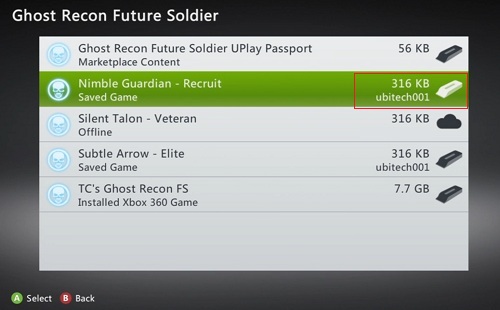 2. If you are still having trouble, make sure you are selecting the
correct storage device
when launching the campaign.
- You will be prompted for a storage device when you initially select
Campaign
 and will be able to change this storage device on the following save game selection screen by pressing the
Y
button.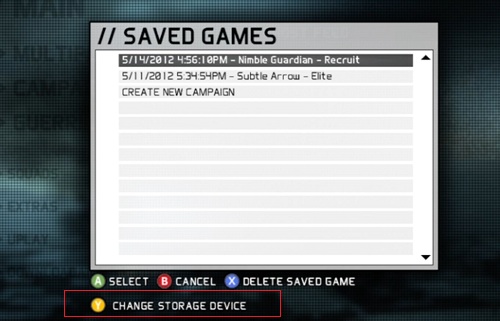 3. Finally, please try an alternate storage device to save your progress.
Save progress can be stored via hard drive, cloud storage or Xbox 360 memory card.  
It is also a good idea to create a backup of your save progress using one of the previously mentioned storage options.