Special Field Research is a new feature introducing
five stages of in-game challenges,
each with their own set of
objectives
and
rewards
. 
By completing all five stages, you will gain access to new
specialisations
 and their signature weapons in the SHD arsenal.
If you have the 
Year 1 Pass
, you will 
instantly unlock 
the Gunner, Technician and Firewall specialisations. 
You can still take on the Special Field Research, but as you progress through the stages you will unlock additional 
exclusive cosmetic rewards
:

Gunner: the Fisticuffs and Front Flex emotes, Charcoal and Detritus gear dyes, Rosethorn and Pineapple weapon skins, the Gunner mask and the Gunner specialization uniform.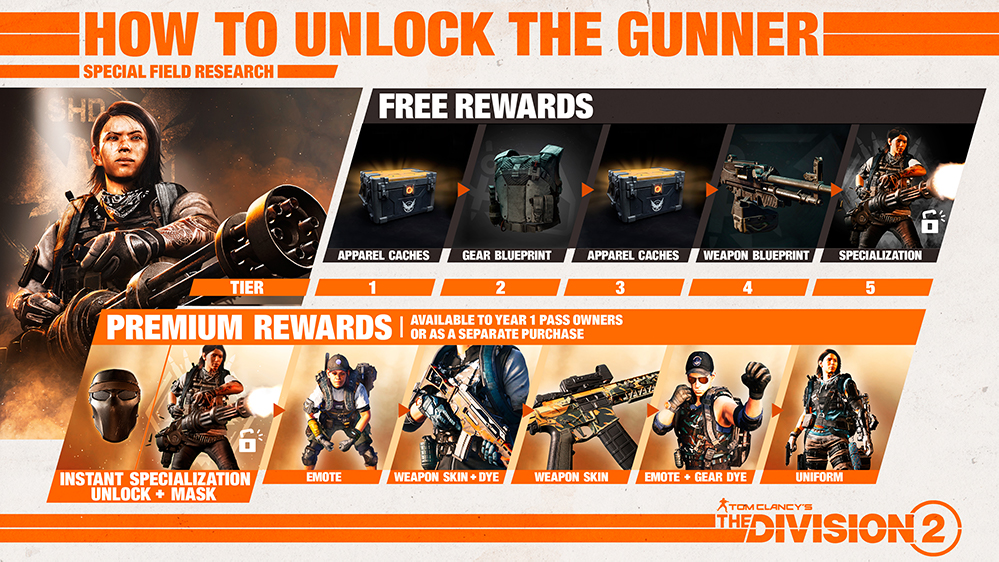 Technician: Technician night vision goggles, Barrage and Ballistic weapon skins, Dustheap and Shrapnel gear dyes, Baseball Pitch and Baseball Swing emotes, and the Shuttle Signature weapon skin. 

Firewall: Firewall safety mask, safety helmet, shirt and pants, Caldera and Basalt weapon skin, Lava Lake and Tremor gear dye and Mundane Signature weapon skin.