If you experience connection issues on PS4, you can check the status of your console's internet connection. This is how you do it: 
- Start at the
PlayStation 4's Dynamic Menu
.
- Press up to go to the
Function Bar
(at the top of your screen).
- Scroll to
Settings 

 and press
X
.
- Navigate to 
Network > Test Internet Connection
.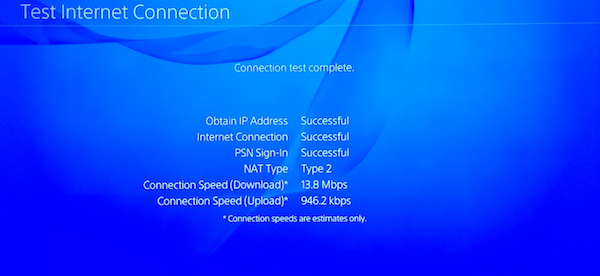 If the test shows your connection as 
NAT Type 3
, communication with other
PS4
systems might be impossible, or you may encounter problems connecting to the network. If the connection fails, please follow the instructions on the screen. 
If the connection shows at
NAT Type 3
, there are some steps you can try to improve general connectivity: 
1. 
Reset your network hardware
2. 
Forward ports
3. 
Place the console into the DMZ
4. 
Check for external restrictions
If you need assistance with these steps, feel free to
contact us
.
For more information please check the
PS4 manual
. If you need further assistance improving your PS4's internet connection, we recommend you contact 
Sony Support
.