If your game runs poorly or you experience lag, disconnections or other issues, a possible cause could be software conflicts. To prevent or stop software conflicts, you can try the steps described below.
Offline mode and proxy settings
First of all, make sure that Ubisoft Connect PC is not set to run in offline mode. This is how you check:
- Click on the menu icon in the top left corner of the Ubisoft Connect PC client.
- Select
Settings
.
- Click on the
Network
tab.
- Make sure
Always Start Ubisoft Connect in Offline Mode
is unchecked​.
In the same menu you can also check the Windows proxy settings. To do that, click on the button that says 
Change Proxy Settings
. This will bring up your
Windows Internet Options
window where you can manage your internet options. 
Security Software
Next, update any anti-virus or personal firewall software that may be installed on your computer. For third party software (such as ZoneAlarm, Norton AntiVirus/Internet Security, McAfee, Avast) check with the appropriate software vendor for details on definitions and updating the software.
You also need to consider the Windows Firewall (accessed via
Start > Control Panel > System and Security > Windows Firewall
) which may block the game from accessing the Internet. To update your Windows Firewall definitions you will need to install the current Windows Updates.

If updating these programs does not resolve the issue, you may need to configure the software to allow access to the specific application. This is generally done through the
Exceptions List
(may be named differently depending on your software). When adding the game as an exception remember to add the executable (exe) for both the game and Ubisoft Connect PC.
Background applications
You may also encounter problems due to applications running in the background of your computer system. Please try closing all running background applications before starting your game. This is how:
- Click
Start
and type
MSCONFIG
into the search box and click
OK
.
- This will open the
System Configuration Utility
on the
General
tab.
- Click on the
Startup
tab and then click the
Disable All
button.
- Click
OK
and restart your system when prompted.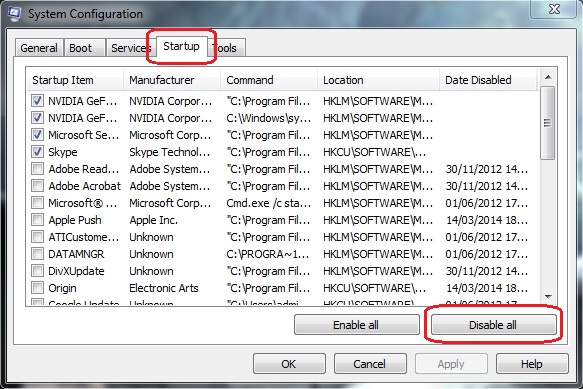 Keep in mind that this is a temporary solution and any changes can be reverted by returning to the
MSCONFIG
utility and re-selecting
Normal Startup. 
On Windows 8, Windows 8.1 and Windows 10 the start-up programs can be switched off directly from the
Task Manager
, see this picture: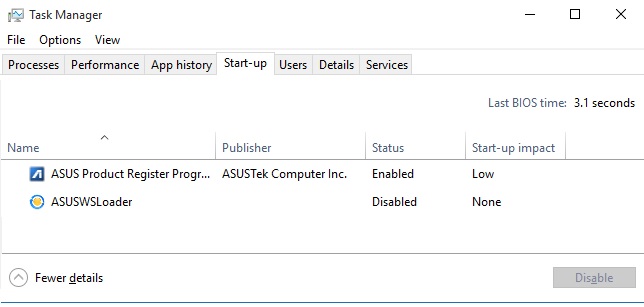 If you continue to have trouble with your game after trying these steps, feel free to
contact us
.