If you are experiencing issues with the Google Authenticator app, or have lost access to the device or email address that you used to access the authenticator codes, you may need to disable two-step verification from your account.
If you still have access to the Google Authentication app and the device or email you use the authenticator on, you can input the verification code that the Google Authenticator provides.
If you are unable to
generate a verification code
, you can also input a
recovery code
, which is provided upon setting up the Google Authenticator on your Ubisoft account. 
If you are experiencing an issue generating a valid verification code, or if you have lost access to your recovery code, please contact our
Customer Support
team for assistance disabling the 2-Step verification feature. Please note that you 
do not
 need to have access to your verification or recovery codes to contact us. In the interest of security, we will take you through an alternate Account Ownership Verification process before we make any changes to your account. 
If you can access the Google Authenticator or your recovery codes, you can deactivate 2-step verification by following the steps below. 
Navigate to the Account Management website and log in to your Ubisoft account.
Click on the Security tile.
Navigate to the 2-Step verification section.
Click on the Deactivate button.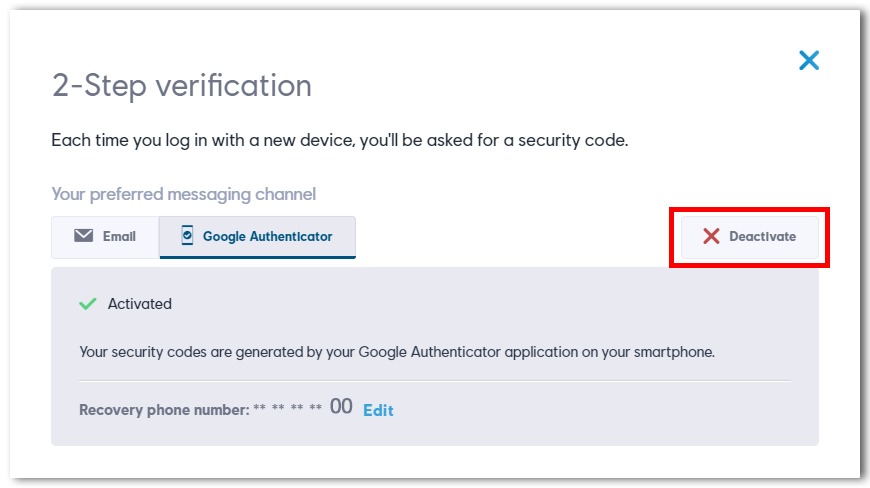 In the pop-up that appears, click on the Deactivate button.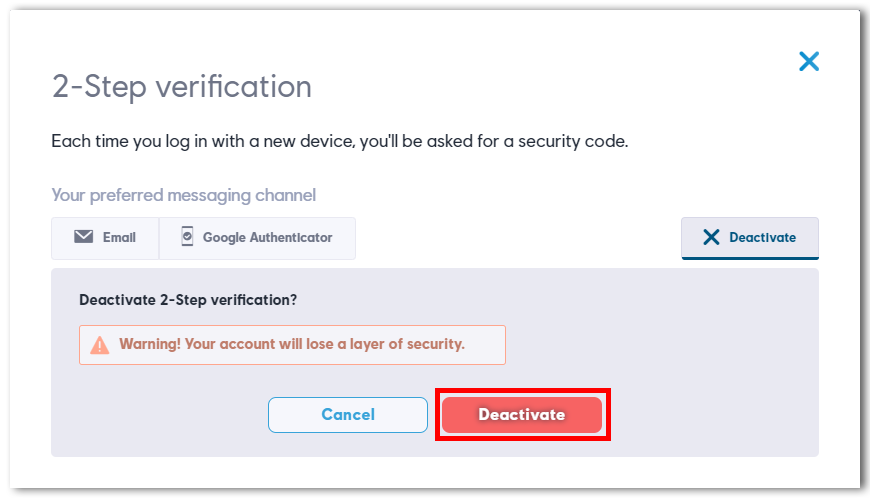 Log out of your Ubisoft account to save this change.
Once the deactivation is successful, you can follow our guide for
re-activating the Google Authenticator
should you wish to establish it on your account again using a new device, or using the same device to generate new recovery codes if the original set you received is no longer available to you. 
Still need help? Feel free to contact our 
Customer Support
 team if you have any other questions about your Ubisoft Account.