Players who
pre-order
 a digital version of Ghost Recon Breakpoint for PC (including Ubisoft Store's exclusive
Wolves Collector Edition
) between
May 9th
and
October 4th 2019
 or have pre-ordered it
 before the announcement
of this offer will be eligible for additional in-game rewards in: 
Rainbow Six: Siege
7-day renown booster

The Division 2
Military P416 Wolves weapon skin

Ghost Recon Wildlands
Pack of 1700 Ghost Recon Credits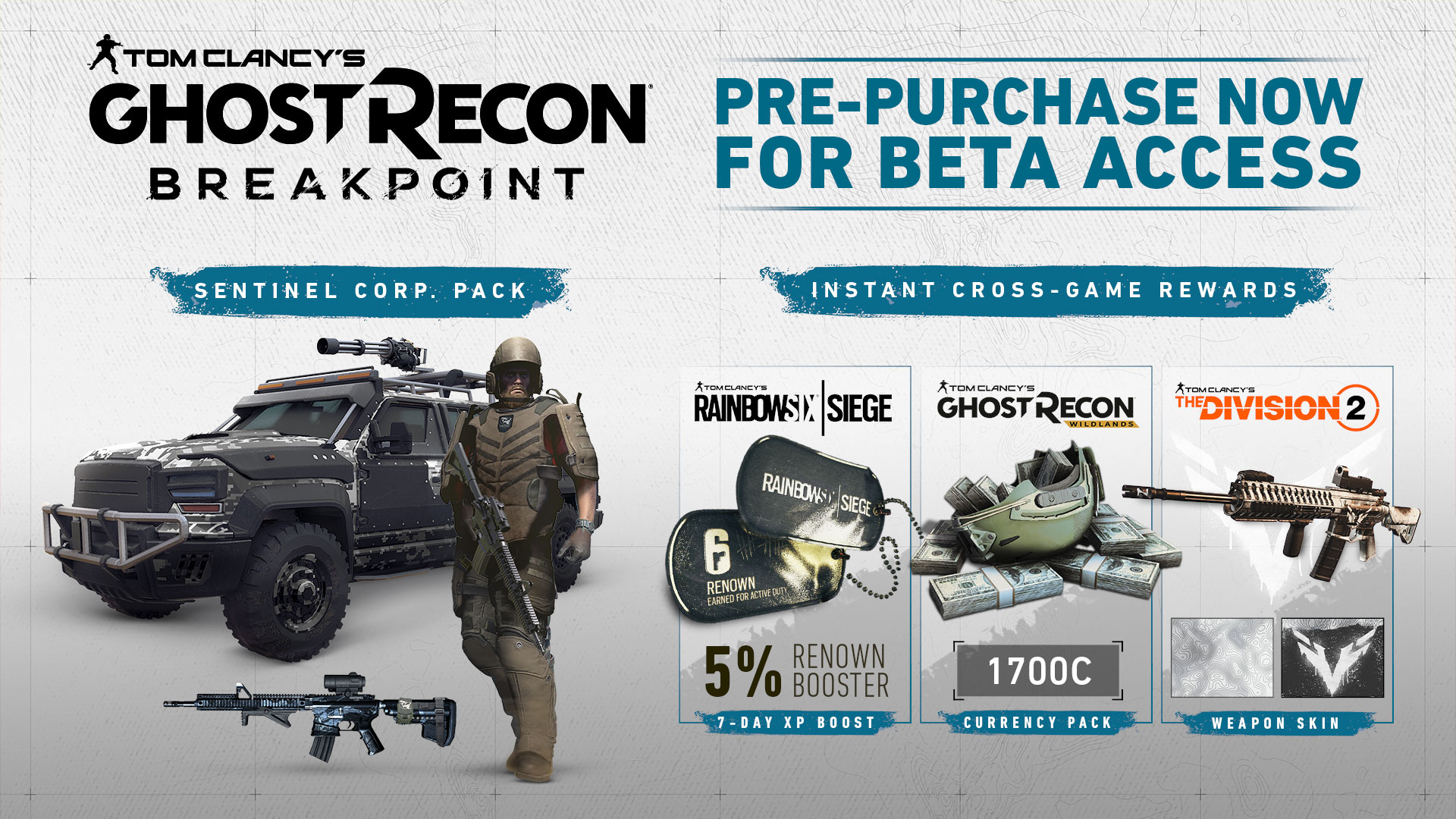 As soon as you have received your pre-order key from the
Ubisoft Store
or the
Epic Game Store
, make sure you have activated it on
Ubisoft Connect
 or in the
Epic Launcher
. 
Ubisoft Connect
Rewards will be automatically enabled on your account and will appear in your in-game inventories. 
Epic Launcher
Rewards will be delivered in your in-game inventories once your Ubisoft and Epic accounts
have been linked
.
Clicking on the
Ghost Recon Breakpoint 
icon should prompt you to link both accounts. 
If you own Rainbow Six: Siege, The Division 2 or Ghost Recon Wildlands
on another PC platform (e.g.: Steam), you can still get the rewards as long as the pre-order was placed on the Ubisoft Account linked to the other platform.
You will receive the rewards even if you have not yet played or do not yet own the games.
Please note
that the rewards are
only available for PC version
of Rainbow Six: Siege, The Division 2 or Ghost Recon Wildlands. This includes versions of the games available through
Ubisoft+
.
Cancelling your pre-order will
remove the rewards
from your account. It is
not possible to transfer
these rewards to a friend or another account. 
Should you need any further assistance with this promotion, feel free to
contact us
!