2-Step Verification is an optional feature that offers an extra layer of security to your Ubisoft account by requiring the provision of a generated code when logging in to your account. While this article outlines how to enable 2-Step Verification through email, we also offer this feature for
mobile devices or tablets
. 
To enable
2-Step Verification through your email account
Login to your Ubisoft account through the Account Management website.
Navigate to the Security page.
Click Activate in the 2-Step verification section.
Select the Email option and click Choose. This step will prompt the delivery of an email to the address associated with your Ubisoft account, and within this email there, will be a verification code that you'll need to continue. 
Enter the security code from the email.
Complete the process by clicking Submit.
Below is a sample of what the email mentioned in step #4 will look like: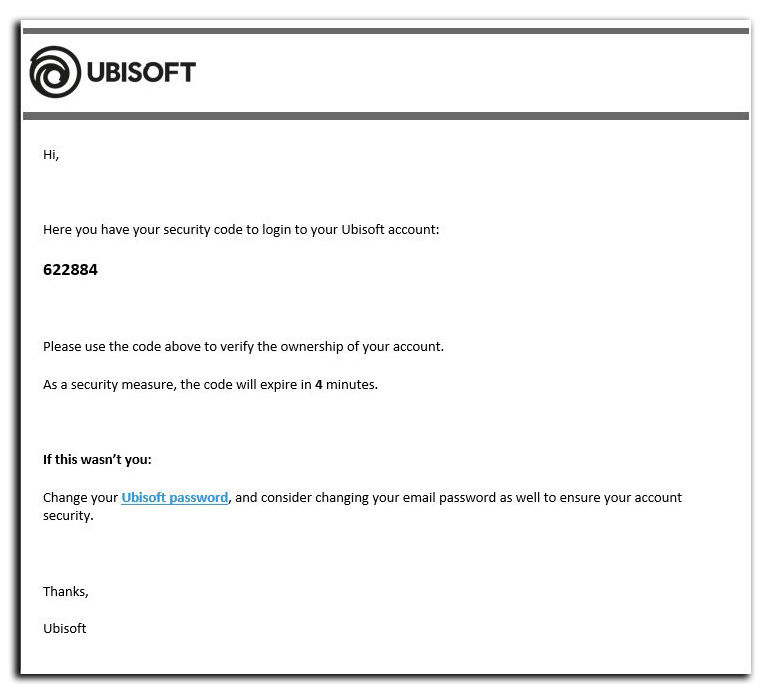 After you've successfully enabled the feature, you will receive another email that contains your
recovery codes
. Be sure to save these in a secure and easy to remember location because you'll only receive one set. You may need them someday if you ever lose access to your email account. For security reasons, our Support team is unable to provide an additional set of recovery codes should they ever be lost.