To install Assassin's Creed from your Assassin's Creed Revelations Blu-Ray, first ensure you have at least 7098mb free on your PlayStation 3's internal hard disc and then follow the steps below:
- Insert the Assassin's Creed Revelations game disc into the PlayStation 3 console.
- Navigate to the "GAME" section on the XMB.
- Two Blu-Ray disc icons should be selectable.
- Select the disc icon labelled "Assassin's Creed Revelations / Assassin's Creed", as seen in the image below.
- An install lozenge will appear for Assassin's Creed. Select it with X.
- Press X to begin the install of Asassin's Creed.
- You can launch Assassin's Creed from the GAME section of the XMB by scrolling down and selecting it.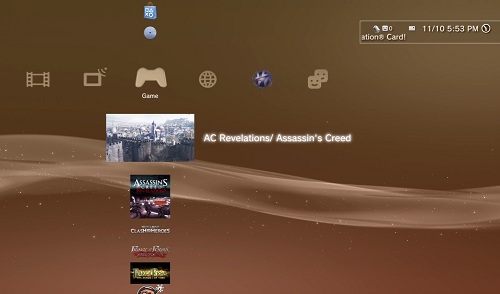 Please note need the Assassin's Creed Revelations Game Disc to play the original Assassin's Creed