As we will not be able to recover the Ubisoft account once it has been closed, we strongly recommend only putting the request in if you are absolutely sure you would like to close your account.
When closing your Ubisoft account, any keys for PC games already activated to the account will be permanently disabled. As a result, those games will no longer be accessible to you, and your username and PC activation keys bound to the account will be permanently banned. Once a PC CD key is banned, it will not be possible to use it again.
Closing your Ubisoft account will also result in loss of access to Uplay services, achievements, forums and support under the account.
Note that Ubisoft titles purchased through another party (e.g. Steam, Epic, Origin, etc.) are included in this process.
Please be aware that once we close your account,
you will have 30 days before your account is permanently closed
. You can reactivate your Ubisoft account at any time before the 30-day period is up by visiting the
Ubisoft Account Management
website. Once 30 days has passed, we will no longer have records of the Ubisoft account in our system. 
If you are sure you would like to
permanently close
your Ubisoft account, you can follow the process below.
Navigate to the Account Management website and log in to your Ubisoft account.
Click on the Account Information tile.
Navigate to the Close your Ubisoft account section.
Click on the Close button. You may be asked to verify your account at this point if you have not done so previously.
In the pop-up that appears, read through the information presented and click on the checkbox for Close my account to proceed.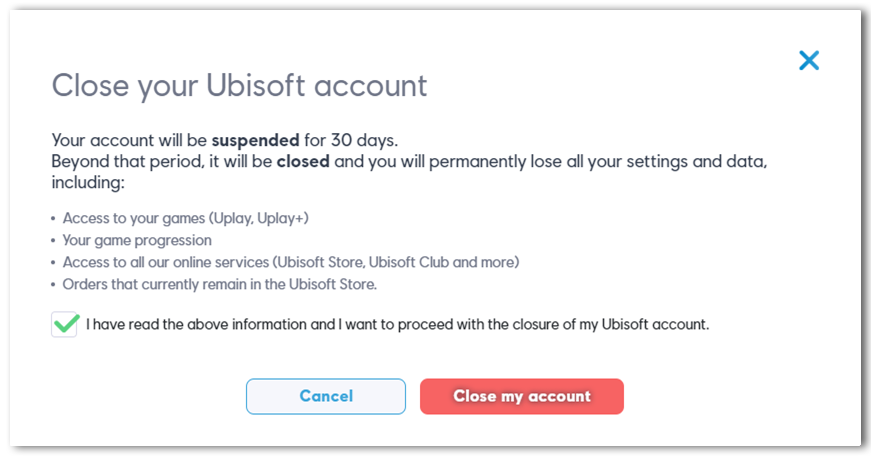 You will then see another pop-up confirming the 30 day suspension that will be placed on your account before it is permanently closed.
 

An email will be sent to the email address associated to your Ubisoft account containing a 
Cancel Account Closure
link to the address associated with your account, in case you change your mind before the 30 day suspension is over. Clicking on the link will
restore your account and allow you to log back in!
Please note that if you no longer have access to the email address tied to your Ubisoft account, you will need to contact our
Customer Support
team to cancel the process.
Does saying goodbye to your account forever sound like too much of a commitment?
As an alternative, you could 
unlink
 your Ubisoft account from other platforms and
unsubscribe
 from our newsletters.
That way, you will stop hearing from Ubisoft, but you will still be able to come back to your Ubisoft games in the future!
Do not hesitate to
contact us
if you have any other questions.