ANSWER:
In Rocksmith 2014, the Kinect can be used to issue
voice commands
when any on-screen menu option is available.
At the main menu, you can say any of the following items to select that option:
LEARN A SONG
SESSION MODE
NONSTOP PLAY
LESSONS
GUITARCADE
MULTIPLAYER
TONE DESIGNER
SHOP
UPLAY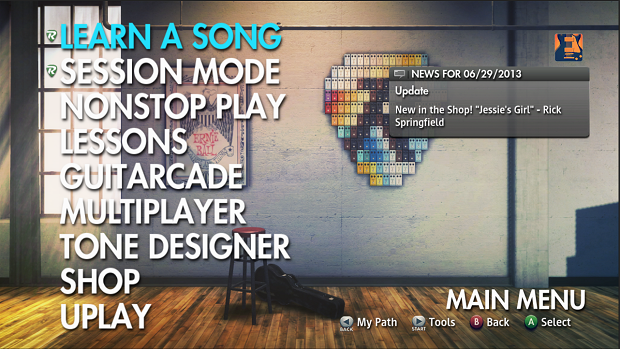 In addition to the list above, you can say
ROCKSMITH
at any point within the menu system to bring up hints as to
which options can be selected using voice commands.
You can also give even simpler commands to help navigate the menu system, such as:
PREVIOUS
NEXT
SELECT
BACK
You can even initiate voice commands for button inputs based on the button icons displayed on the bottom of the
screen.
MY PATH
TOOLS
BACK
SELECT
(or
OK
)

You can also say the name of a song in the Songs List to select that song if it's on-screen. If not, you can use the
NEXT
and
PREVIOUS
commands to find it, in addition to the standard button voice commands listed at the bottom of the
screen.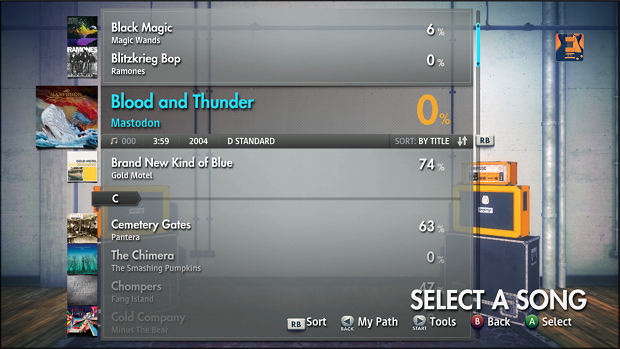 You can use voice commands to select a slider and then
say a number
(from -300 to 300) to designate that slider to a
specific value.

Areas in which Voice Commands are
Disabled
:
TONE DESIGNER
– Due to the similar and often complex names of the different amps, cabs, pedals, and racks in Tone
Designer, we've disabled voice commands here. You can still make use of the general voice commands here, such as
PREVIOUS
,
NEXT
,
SELECT
, and
BACK
, but we've disabled the voice commands that are related directly to the names of the
gear.