ANSWER:
Ubisoft collects and uses your personal data mainly to provide and improve our products and services, offer you the best user experience possible, and send you communications based on your preferences. You can make the following requests in relation to your data.
Data Information Request
You can learn about how we use your personal data by reading our Privacy Policy.If you do not find what you are looking for, you can make a Data Information Request. We will be happy to provide you with more information.
Data Deletion Request
If you want the deletion of your Ubisoft Account, you can make a Data Deletion Request. Please note that all the games and products linked to your account will be deleted and we will have no way to restore them once the deletion is complete.
Data Access and Portability Request
If you want to receive the information that Ubisoft holds about you, you can download an extract of your data on the Account Management site following the steps below:
1. Sign into the Account Management site, and make sure you are on the Account Information tab.2. Navigate to the Download Your Data section, and click Download Your Data to begin the process of collecting your data.


3. Sign into the email address associated with your Ubisoft Account, and keep an eye out for an email from us letting you know your data is ready.

Note: It can take up to 30 minutes to arrive in your inbox.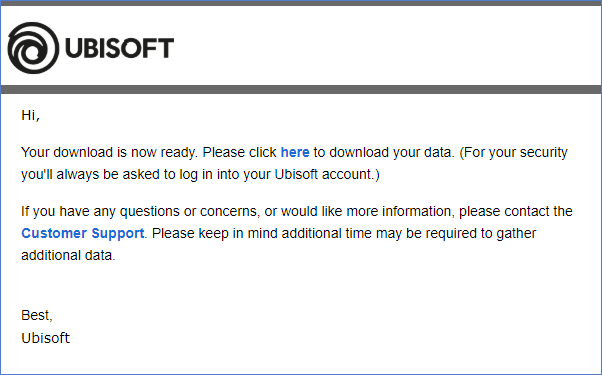 4. Click on the link provided within the email to be taken back to the Account Management site.
5. In the Account Information tab, scroll to the Download Your Data section, and click Your Ubisoft Data Is Ready.

6. Your data will be downloaded in the form of CSV files through your browser. This easily shareable format will allow you to reuse your personal data through another service.
If you want to access more data than what is included in the extract you downloaded, please make a Data Access Request.
Data Rectification Request
If you feel that any data Ubisoft holds about you is inaccurate, you can request its correction. Please note that you can update some of your Ubisoft Account information directly on the Account Management site: Email Address, First & Last Name, Gender and Preferred Language.To update your Birthdate or Country, contact Ubisoft Support for assistance.To update any other information, please make a Data Rectification Request.
Data Processing Objection Request
If you wish for Ubisoft not to process your data anymore (including for marketing purposes), you can make a Data Processing Objection Request.To opt out of Ubisoft newsletters, follow our guide on how to unsubscribe from a newsletter.
Data Processing Restriction Request
You can request for Ubisoft to limit the use of your personal data. This means that Ubisoft will keep storing your data but that it will only be processed in certain circumstances (e.g. with your consent, to establish legal claims or to protect the rights of someone else).