Available from
ICON 1
fame level, the
Live Summit
is a
weekly PvE competition
in which you take on a thematic playlist of nine activities, selected among the game's wide range of playgrounds and disciplines. You can access it through a dedicated billboard in any HQ, or via shortcuts in the News or the Activities menus. Each
Live Summit
has a unique theme that really spices up the challenge, ranging from full Polar climates to Vintage vs Modern showdowns. 
The
Live Summit's
nine activities will include:
 • 3 skills
 • 4 existing events revamped to fit the week's theme
 • 1 new event for an existing discipline
 • 1 special event that mashes up an existing track/playground with vehicles from a different discipline 
Live Summit
to reach the highest spots of the final leaderboard. 
There are four reward levels to unlock:
Bronze, Silver, Gold
 and
Platinum
. The higher the level, the better the rewards.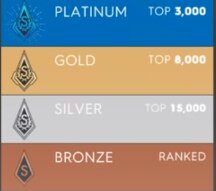 Earning a higher level will also net you the rewards from all lower levels. For example, a Gold medal in the
Live Summit
will also include the Silver and Bronze rewards.
Obtaining a Platinum medal will always earn you an exclusive reward. The last
Live Summit
of every month will up the stakes, to reward all Platinum medals with an exclusive vehicle! Speaking of vehicles, your own vehicle levels and affixes are taken into account while racing in the
Live Summit
. Picking the right ride and tuning it up before hitting the starting grid is therefore of the utmost importance! 
Likewise, certain events will require specific vehicles or vehicle types, so keep an eye on the
Live Summit
calendar to know what you'll need in the coming weeks. Vehicles will not be lent, so if you don't own the right one you cannot take part.
Note that if you play in a crew, only the crew leader needs to own the required vehicles for all crew members to participate. 
Other Features
Along with the new content and features, this update will be bringing a new set of game improvements, including:
 • Scrap & Recaliber: recycle your extra performance parts to earn Spare Parts and improve your other favorite part affixes.
 • Quick messaging: easily communicate with surrounding players with this new feature (accessible through the DPad Down button).
 • Navigation ribbon: set your destination and follow the line to enjoy the journey! (you can enable/disable with feature from game settings menu).
 • Improved weather sequence.