RÉPONSE:
Where can I locate my Uplay Passport code?
The 12-digit Uplay Passport code can be found printed on an insert located inside of your game box.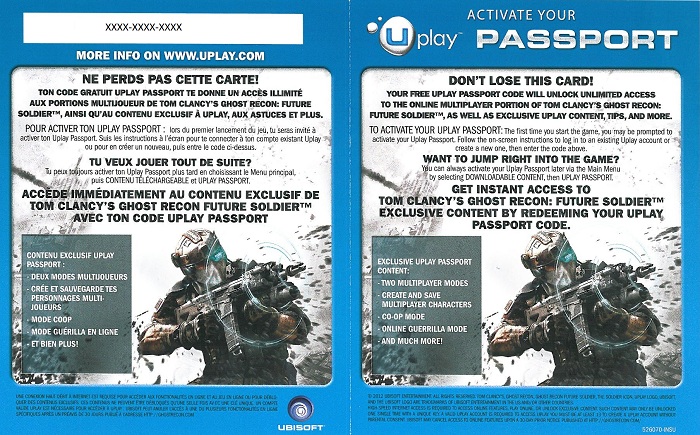 What will the Uplay Passport Unlock?
The Uplay Passport for Ghost Recon: Future Soldier unlocks unlimited access to the online multiplayer portion of Tom Clancy's Ghost Recon: Future Soldier, as well as exclusive Uplay content.



Can I play the multiplayer game without a Uplay Passport?
Without a Uplay Passport, progression will be limited to level 5, and transmedia rewards cannot be unlocked.



Will my Uplay Passport work with more then one PSN ID on my PS3?
The Uplay Passport can be activated on a single PSN ID. However, it will be available for all accounts on the same console.
How do I activate my Passport?

1. When starting Ghost Recon: Future Soldier, you will see an option to redeem a Uplay Passport code.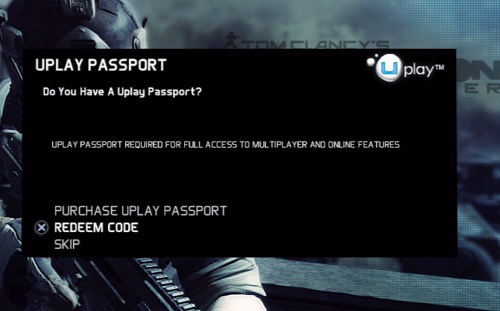 2. Enter the code exactly as shown. Be sure to use all capital letters along with the dashes.




3. You will then be prompted to download the Uplay Passport.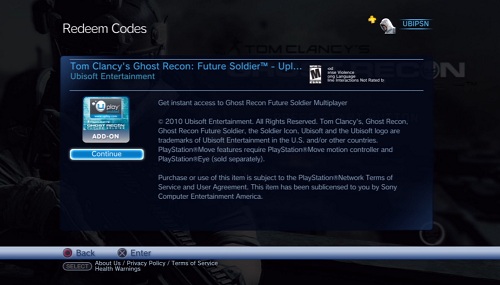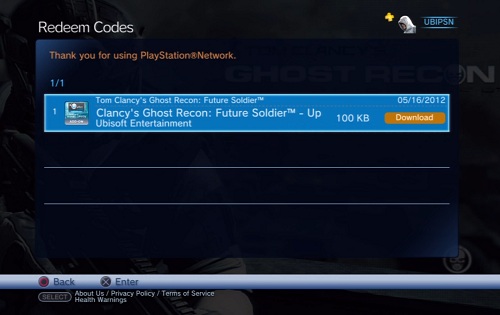 Alternately, you can always activate your Uplay Passport later via the main menu by selecting Downloadable Content, then Uplay Passport.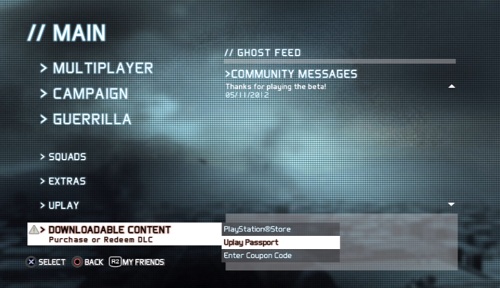 My Uplay Passport code returns as "already in use". What should I do?
Uplay Passport codes can only be used ONE time and can not be activated on multiple accounts. If you purchased this game used, you can buy a new Uplay Passport code through the PlayStation Store.



My Uplay Passport code returns as invalid. What should I do?
Please enter your Uplay Passport key exactly as it is printed with all caps and including the dashes. If still unsuccessful, click on the Ask A Question tab above to contact Ubisoft Support for more information. (Please attach a digital image of the dated receipt along with the key for quicker service).